1. Creeping Vines Wallpaper
This wallpaper sports a subdued blue-grey infused with the bright green spark of colour provided by the creeping plants growing up from the bottom. This picture perfect wallpaper will be the envy of all your friends and will add a touch of nature to any space.
2. Retro Fern Print Wallpaper
This wallpaper depicts multiple ferns overlaid on top of each other in a vibrant pattern that will breathe life and the first colours of Autumn into your home. The colours are sort of teal green, thereby adding a retro touch to the print.
3. Blank Canvas Wallpaper
If you want to brighten a room and give it a professional finish, but aren't too fussed about bright colours or fancy prints, then this Blank Canvas Wallpaper is just the wallpaper you have been searching for.
4. Dappled Brick Wallpaper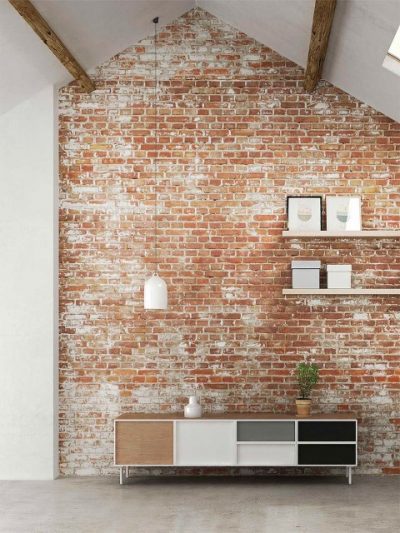 For a spot of sunshine on a plain brick wall, look no further. This lightly touched brick pattern has been dappled with white-wash, giving it the look of a newly completed wall, still spotted with builder's dust.
5. Tight Knit Wallpaper
For a finish so soft you will want to reach out and stroke it out, Tight Knit Wallpaper is the way to go. Cozily grey and with the warmth of wool intricately pleated into the print, this optical illusion will make you want to sink into your walls.
6. Pencil-case Print Wallpaper
This school days inspired print will shake up and space and add the life and vibrancy one can expect to find in the classroom. This print is comprised of cross-sections of multiple coloured pencils, perfect for a kids room, a studying space or just to give your walls a flash of fun.
7. Turquoise Tantrum Wallpaper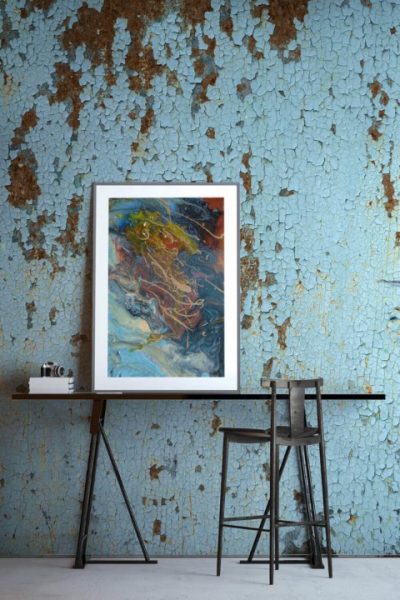 This print resembles the magnified close up of the surface of a slice of Turquoise. This wallpaper will complement any green themed room, but will also add a touch of elegance and style to a minimalist or muted colour scheme.
8. Au Natural Wallpaper
This is a minimalist pattern in white and off-white that resembles cracked plaster. It gives a pleasing effect to the eye and is highly likely to fool your friends. For exposed plaster without the danger (and the mess) then look no further.
9. Woodpile Wallpaper
When it comes to wood effects we have got you covered and in more ways than one. This unique and bold print incorporates cross -sections of halved and quartered logs and might be perfect for a carpenter or a work-space wallpaper.
10. Fossil Finder Wallpaper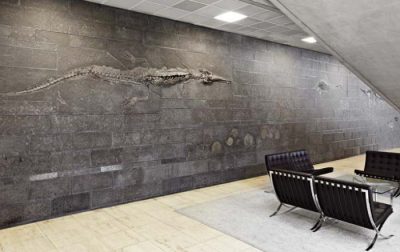 This daring wallpaper sports a fossilized creature emerging from the depths of some dark and unknown place. Perfect for capturing the imagination but equally likely to scare or fascinate young children, this is not a print for those who believe in half-hearted measures.
11. The Grass Is Greener Wallpaper
This print is as luscious as it is colourful, with green grass sprouting in an open garden. The grass is reasonably tidy, so don't worry about your space looking cluttered, rather it will look enticing and inviting with this summertime print.
12. High Fashion Honeycomb Wallpaper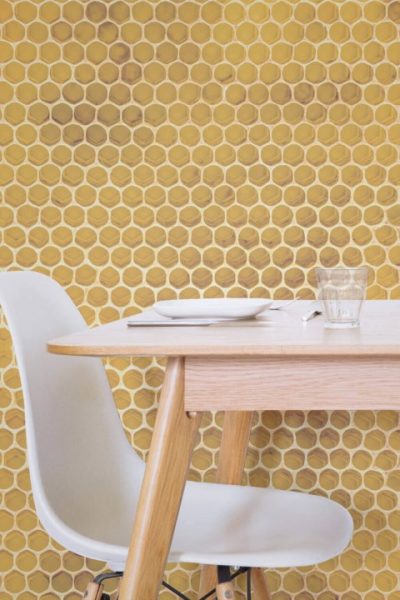 This flawless print recreates the perfection of natural honeycomb in full, cross-section splendour. The colour is a warm and soft honey amber, the print whispers to you, urging you to take a little taste. Please try to remember not to eat the wallpaper.
13. Green Dreams Wallpaper
This teal, green and turquoise wallpaper is marbled with colours and dreamy in the presentation. Cozy yet artistic, vibrant yet soft, this wallpaper breaks all of the rules when it comes to contradictions. Give it a try and see for yourself!
14. A Stitch in Time Wallpaper
Our luxurious and double thick wool knit printed mural wallpaper is the height of comfort and is guaranteed to maximize the relaxation levels in any area. When added to a bedroom this print represents the ultimate in softness, and its off-white colour will tie in with almost any pallet.
15. Coffee Express Wallpaper
This wallpaper sports an amalgamation of coffee shop menu's and ingredients, with Coffee the predominant word. It is an off-white colour as a background and features dark writing, guaranteed to give you something to read at the breakfast table.
16. Plush Leather Wallpaper
This creamy coloured, rich and divine wallpaper looks just like it is made out of real leather. With a print that screams high-fashion; this wallpaper will update any room while giving it the affectations of the mega-rich.
17. Natural Dark Oak Wallpaper
Another of our wooden effect print wallpapers, this wallpaper almost exactly resembles a fine Dark Oak planking on the walls. Turn any room into an oak cabin and couple with an open fireplace for optimal results.
18. Geometric Honeycomb Wallpaper
This second Honeycomb inspired print in our collection, this differs in that it is a grey-blue colour and the honeycomb is in miniature. This tiny nod to nature is given a sort of geometrical vibe because of the structure and colour.
19. Ocean Waves Wallpaper
This print meticulously emulates the detail found on the surface of the ocean, by encapsulating the waves so well that you almost expect to see them moving. Not for the seasick, this wallpaper will add the deepest of blues and a maritime feel to any space.
20. Pine Print Wallpaper
This wood emulation wallpaper sports pine wood planks laid horizontally along the wall. You can make any room into a tree-house with this wonderfully realistic print. Ideal for minimalists and nature lovers alike.
21. Sliced Log Wallpaper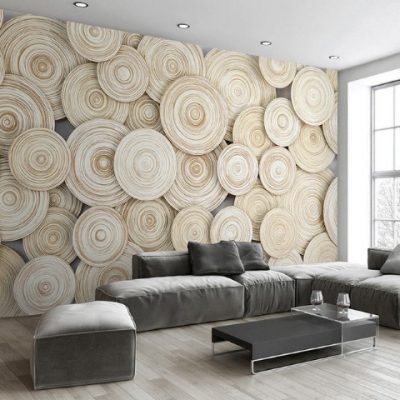 Our sliced log print wallpaper will inspire you to get closer to nature with its full cross-sections of chopped logs. Cylindrical in pattern and large in size, these brown and tan slices are overlaid to form a striking pattern that will embolden any room.
22. Sleeper Wallpaper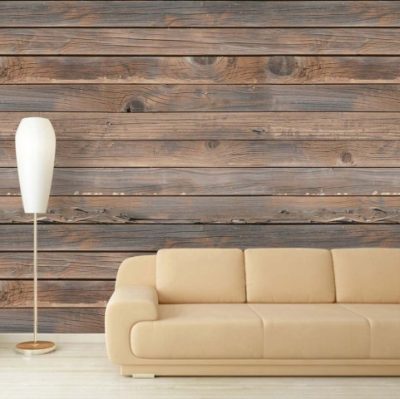 This wooden effect print sports railway sleepers stacked one on top of the other right to the ceiling. It is a curious print, that will likely attract conversation, while not being dominant in the room. The sleepers seem weathered slightly, and almost seem antique.
23. Padded Wallpaper
While featuring a soft, plush blue that speaks of velvet and sumptuous materials, this print has a very 'padded room' theme – although done in the most tasteful way possible. The padding reminds you of the buttons on the back of an easy chair, reminding you of the comfort promised within.
24. Forest in Monochrome Wallpaper
This black and white print will open you up to the magic and wonder of the Forrest every time you walk into the room. The perfect wallpaper to gaze upon, this makes an ideal wallpaper for an entrance way or anywhere you just want to sit and soak up the view.
25. Hard Iron Wallpaper
This dark and industrial themed print will give a serious edge to any space. Resembling the surface of brushed Iron, this wallpaper needs no further introductions.
26. Mixed Wood Plank Wallpaper
This mixed variety of wood really makes our Mixed Wood Plank Wallpaper stand out from our other wood effect prints. With a vibe similar to that of a shack on the beach, this print will be a perfect wallpaper for any focal point in any room.
27. Will 'O' The Wisp Wallpaper
This print has an airy, light and refreshing feel that makes you want to lie back and daydream. Somewhat similar to a microscopic closeup of a dandelion seed blowing in the wind, this breezy print can lift even the heaviest of hearts.
28. Striking Sandstone Wallpaper
Normally known for its softness and crumbly composition, our Striking Sandstone printed mural wallpaper lets you have Sandstone on the walls without the mess. This completely sand-free wallpaper will add a cultured, eloquent feel to the room while allowing you to feel safe and secure in your castle.
29. Spiral Fossil Wallpaper
This print features a huge spiralled fossil, frozen in time and mounted on your wall to become a talking piece even if it is only wallpaper. Designed for the archaeologist in us all, this print would look great in a library or study.
30. Beach Bleached Wallpaper
This wooden plank effect print will rile your senses as you try to figure out whether it is real or not. It has the faded wood colour of sea-bleached and salt soaked planking and doesn't smell bad, to boot.
31. Deep South Wallpaper
One cannot look at this print without imagining an old feller in a rocking chair, cradling a shotgun. If you want your space to look like a Deep South porch or entranceway, then look no farther. This print is so authentic you can almost hear the stereotypical banjos playing.
You Might Also Like:
1) 21 Best Cartoon Wallpapers For Kids Room
2) 31 Best World Map Wallpaper
3) 11 Amazing Vintage Wallpapers
4) 15 Amazing Forest Wallpaper Designs