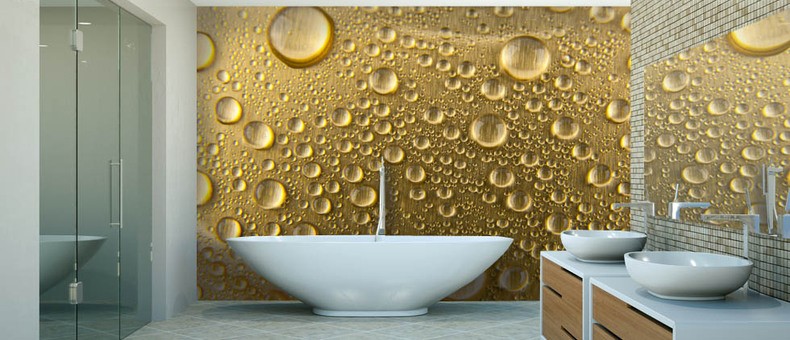 It is only recently that we see the trend of redoing the look in our bathrooms. Increasingly the idea is to make the bathrooms more pleasant than before and add significant design variation. Often a combination of kitsch and classics, bathrooms today also benefit from a generous amount of experimentation in wallpaper outside the living room.
Did I startle some of you by mentioning wallpapers in the bathroom, well yes wallpapers in bathrooms are a part of the beautiful renovation that home improvement sector is undergoing. Of course, you have variants like vinyl coated wallpaper and waterproof wallpaper. We specialize in using these unique products and turning your bathroom into a special zone that you will be proud of.
Advantages of Working with Us
So how does it help if you hire us to wallpaper your bathroom? We use bathroom wallpaper to redefine your private sanctorum in the house and help lend a brand new identity to it. So how exactly does it happen?
Additional Coating: We help protect the wallpaper in our clients' bathroom using a polyvinyl decorative varnish. Not only does it protects the wallpaper from getting soggy or moist due to the additional humidity but also adds a special shine to the overall walls creating a bright and pleasant ambience.

Improving Ventilation: One key requisite for wallpapering your bathrooms is ensuring that all the available windows and doors are opened up. Better air supply and lights will not only improve the overall get-up of the wallpapered bathroom interiors but also acts as a natural protector against moisture related problems like damp patches, molding and soggy paper corners.

Pleasant Background: Bathrooms don't always need to have featured walls. We sometimes use the wallpaper to recreate a pleasant background and uplift the overall decoration or quotient of the bathroom. We normally use this approach for those corners that do not get wet easily or don't have the shower in that area.

Creating Space: If the size of your bathroom is relatively smaller, a bright or big motif wallpaper can easily create the illusion of more space and usher in an extreme sense of space and cheerfulness. Those staying in apartment buildings or studio apartments especially find this approach from us as a big boon as the cramped bathroom can at times be extremely depressing early in the morning and the bright wallpaper can be a refreshing change.
Give Us A Call Now for Your New Bathroom Design
Bathroom wallpaper is one of the primary platforms to unleash creativity in an unconventional manner. We look at providing a comprehensive and well-rounded service to our clients and easy to understand lessons on wallpaper maintenance too on request.
So do not delay any further. If you are considering wallpapered bathrooms, just give us a call. Even better drop an email with the specification you have in mind. We promise to get back to you at the earliest, conduct a thorough check of the property and help you make a sensible and aesthetically compelling choice.